Graphic Design and the Impact of a World Community
A unique collection of graphic art is on loan in downtown Madison

Madison, Wis. (July 19, 2017) – David Wells, director of the Edgewood College Gallery, and Shad Wenzlaff, faculty member in the Art Department and Director of Student Research, have made possible a unique exhibition for the public to enjoy.
The two have co-curated a poster exhibition of Documenta posters. The collection is on temporary view at the City-County building through July 31.
Documenta is an exhibition of contemporary art, begun in 1955, which takes place every five years in Kassel, Germany. Kassel and Dane County have enjoyed a significant cultural exchange program that dates to 2007 when the two counties entered into a formal Sister County Partnership. The agreement is designed to exchange ideas and build economic partnerships in areas like renewable energy, regional transportation systems, workforce training and continuing education.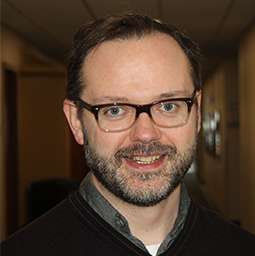 In 2014, Dane County welcomed Christian Schauderna from Kassel, who served as Artist-in-Residence at Edgewood College. Funding for the cultural exchanges comes from private donations, Dane Arts and Kassel County.
"Dane County's unique connection to Kassel helps bring the world to our students," David Wells said. "We are fortunate to have access to this work - we incorporate it into our History of Graphic Design curriculum."
"This collection of posters represents a comprehensive history of a unique cultural idea," Shad Wenzlaff (
right
) said. "As such, it presents a compelling research topic for our students. Two students presented their research on this collection this spring during Edgewood Engaged, our annual symposium celebrating research and creative inquiry. This partnership between Edgewood College, our
Art Department
, and the Dane County Cultural/Kassel Germany cultural exchange represents our impact on the community, and the world community's impact on Edgewood College."
(Above: David Wells (r.) and Chuck Erickson, Dane County Supervisor, speaking about collection at a reception at the City-County Building, July 2017.)