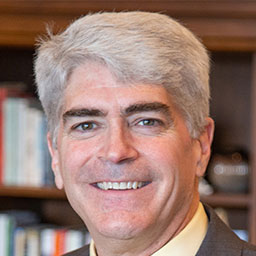 Andrew Manion
Andrew P. Manion, Ph.D. assumed the role of President of Edgewood College on June 1, 2020.
Dr. Manion previously served as President of Marian University from 2016 - 2020. Under his leadership, the university enjoyed significant growth in first-year student enrollment, expanded academic and athletics facilities, and made significant strides in the areas of diversity, inclusion, and social justice.
Prior to that work, he served for nearly 20 years in multiple academic and administrative roles at Aurora University, including Dean of the College of Arts and Sciences, Provost, and Executive Vice President.
Dr. Manion served on the faculty of Saint Mary's University of Minnesota from 1991 to 1998, first as Assistant Professor in the Department of Psychology, then as Director of the Institute of Interdisciplinary Studies, and as Associate Dean of Humanities.
Dr. Manion holds a Ph.D. in Experimental Psychology and a Master of Arts in Psychology from Adelphi University in Long Island, New York. He is a graduate of St. Norbert College in DePere, Wis. where he majored in Psychology.
He is past-President of the Northern Athletics Collegiate Conference (NACC), of which Edgewood College is a member.