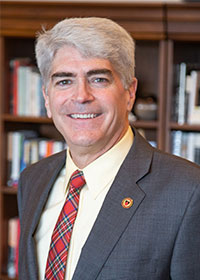 Office of the President
"Connecting learning, beliefs, and action."
What does that mean?
It means that we are committed to creating a learning environment where students from all walks of life are and feel welcome. We seek to become a place where all students are comfortable expressing and becoming their best selves, and where all students are prepared for life in our increasingly diverse world.
It means every student is important. Whether you will be a first-time student or a transfer undergrad, a returning adult, or someone pursuing graduate or doctoral study, we will expect your best--and we will do whatever we can to help you achieve it.
It means that your educational experience extends beyond the classroom. Internships, co-curricular activities, study abroad, athletics, research, life in the residence halls…these are all part of the full-time undergraduate learning experience, enhanced by our location in Madison. And our adult and graduate students bring their work experience to the classroom, applying what they learn in the workplace and the community.
It means that we believe a college education should prepare you for life in every respect. We know that most college students expect that their educational experience will help them advance their career, and our alumni tell us that we deliver on that expectation. But our society needs more than capable employees. We are preparing the next generations of scholars, leaders, servants and creators—those who will make our communities and our world a better place. You'll be better prepared to make an even greater difference in our world through your Edgewood College experience.

Read the stories of students and alumni whose lives have been changed for the better by an Edgewood College education. Learn more about the faculty and staff who create a learning environment where you'll be both challenged and supported. And then visit our campus to see for yourself how Edgewood College can help you connect learning, beliefs and action.

Andrew P. Manion, Ph.D.
President
P.S. When you take a tour, ask your Ambassador to stop by the President's Office—I'd love to meet you when you visit!